I have been a busy little imp. I recently joined craftster because I'd like to create and trade bigger more interesting stuff, and within two days of joining signed up to be a "Swap Angel", someone who steps in to make items for a member whose partner has flaked. I'm angeling for a "Geek Chic" swap, so I got to make nerdy crap. Whee!
The person I'm making stuff for says she likes Heinlein, so I'm hoping she's enough of a Heinlein geek to appreciate this t-shirt:
She wanted a checkbook cover, so I made her this Mario Brothers one with Toad proclaiming that our princess is in another castle. Poor checks. It actually took me FOREVER to figure out how to do it. It has a space for checks and the register and closes with Velcro
Then I made Tetris pieces out of FixitSculpt (which is amazing freakin' stuff), painted and sealed them and then hung them on hemp for this goofy little necklace:
And finally did this mixed media D&D geek piece of hangable stuff... I used these awesome skully tissues that Anita sent me for the background (if it's hard to tell, it's a 20-sided die):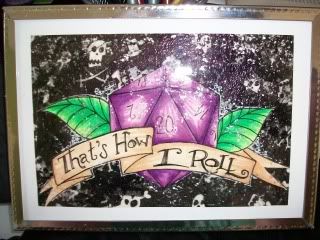 I did this card for the monthly partner swap at iATCs,
With that all being done, I finished up the beginning of one of the moley exchanges I'm doing, this one at illustratedATCs.com. My theme there is "Mondo Bizarro"
Intro pages:
And the first 3.5-page run (with 7 more to follow over the next 8 months)
Then I reorganized the "Studio" (I feel like such a pretentious tard saying that), and will be unpacking and organizing the sewing stuff today. Right now it's piled in a box in the closet.
Other than that, it's been the typical schedule of chasing the baby, chasing the boys, cooking, cleaning, laundrying, and working. Yuck.
Check out Bastian in his "muscle man" persona: